VPS Server
ONLY $19.99/Monthly




WHM/Cpanel Zamfoo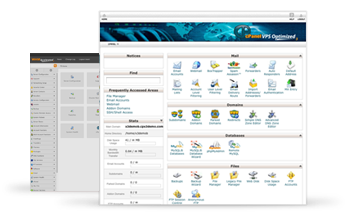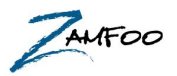 Softaculous


VPS Control Panel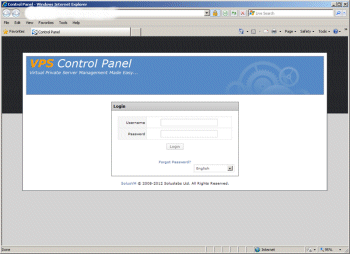 Inside VPS Control panel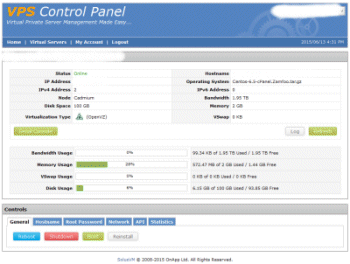 VPS

Setup

Free

RAID 10 Disk Space

50 GB

CPU's

1 CPU Cores 2.0 GHz

Ram

2 GB dedicated

Bandwidth per month

500 GB @ 100 MBPS

Dedicated IPs (2 with account setup.)

Up to 4 with justification of use

FULL ROOT ACCESS

YES

VPS Control panel

YES

Addons

WHM/CPANEL

$21.95/monthly up to 5 accounts. Every additional 50 accounts is $17.50/month extra

FREE Softaculous Premium license

With Cpanel purchase

FREE

Super Zamfoo Alpha license

16.25/Monthly

Zamfoo Alpha license

7.25

/Monthly

Optional Upgrades

Complete Server Management

$45 additional per month

Additional Dedicated IP

$3 each per month

Below are some of the most commonly asked questions
$19.99/Monthly
The following upgrades can be ordered on the order page.
Complete Server Management ($45 additional per month)

Let our experienced staff manage your server for a small monthly fee of $45. With a managed server, our techs will help you with any server related issues including but not limited to server security, hardening, PHP, MySQL, Apache configuration, module recompiling, firewall configuration, error troubleshooting as well as installation of known software's on a best effort basis. Basically, with a fully managed server, we will help you out with any server related problem that you may have.
Additional Dedicated IP ($3 each per month)
Dedicated IPs are only allocated subject to an SSL justification. IP requests for SEO, Email marketing, spam, etc will be rejected. If you are unsure, we recommend you contact us before ordering to confirm if your IP requests can be approved.
Frequent
Questions
Below are some of the most commonly asked questions
How long has Lowhostingrates been offering Hosting Services?
Lowhostingrates domain was bought in

October, 2008

However we were already doing hosting business under our OLD name telecom-pros.com with other offerings at the time and hosting wasn't our number one venture at the time. telecom-pros.com was started January, 1997.

We have an experienced team of support staff who are more than happy to be of assistance to you at all times.
What is your Activation timeline?
We follow a stringent fraud verification (automated and manual) on all new accounts. After receiving your payment we will send you an email with the signup details. Once you have signed up on our website, it may take up to 24 hours for us to verify your account. Entering accurate and complete information will help expedite your order. Once that is done, you can expect your welcome email shortly thereafter. In the unlikely event that we are unable to verify your account, we will be cancelling the transaction with a full refund within 72 hours. Having said all of that a majority of the accounts are activated within the hour itself of signing up on website.
What is your Refund Policy?
We do not offer refunds on any active services whatsoever. Since this product includes many software licenses which are eventually a cost to the company, a refund of any form is not possible after your account is active. All our services are monthly recurring and you can choose to cancel your services effective your next billing cycle if you so wish. Having said that, we do make exceptions occasionally in some genuine cases. This however, is solely at our discretion. We encourage that you contact us with any questions that you may have before making a purchase.
Do you offer true 24 x 7 support?
Yes, we do understand the importance of timely support which is why we are manned 24 x 7 on our helpdesk. All support tickets (except sales and billing issues) are answered an average of 60 minutes response time. At the moment we offer support via our helpdesk (ticket system).
Where would my server be located?
Our servers are located in US and EU. Your VM will be deployed on a random available node in one of the available locations. If you are looking for a specific location, we request that you contact us before you make a purchase.
What are you main node specifications?
All of our servers utilize Dual Intel Xeon E5-2620 processors with 24 threads and 128 GB of RAM. We use 8 x 1 TB Disks paired in RAID 10 setup using high quality RAID cards like LSI-MR 927x series along with BBU for high speed Disk I/O and dual 1 GBPS network ports in a paired setup collocated in Equinix Data centers.
What is your service uptime guarantee?
We offer a 100% network uptime guarantee on all our servers. This however, does not cover additional factors that are beyond our control, including but not limited to hardware failures, Software problems, and or any other issues that are beyond our control. We can however, assure you that we would be there for you at all times and try to be of utmost assistance.
Is this server Self Managed?
Yes, this server is 100% self managed. This means that you will have full root access to your server however, you will need to manage and maintain it yourself. If you encounter any issues that can be fixed by logging into your VPS, our techs will not be able to assist you with it. While this will work great with a lot of customers who are comfortable with SSH and Linux, there may be a few customers who are not technically skilled to handle and manage their servers. For all those customers, we are happy to extend a fully managed service for a small monthly fee of $35 per month. In a nut shell, a fully managed server will entitle you to full support from our staff for any server related issues arising on your VPS. Feel free to contact us for more information.
I have an account elsewhere. Can you help me migrate?
Since your server is self managed, we will not be able to assist you with account migrations however, if you opt for our managed services, we are happy to take care of this for you. Please note that you must have root access on your old server. If you do not, we can still move you over for as long as you do have a reasonable number of client accounts. If you are unsure, we request that you contact us before making a purchase.
I have additional questions, what do I do?
We request that you contact us for any questions that you may have. We will attempt to answer them within 24 hours (usually a lot sooner). After your account is active you can use our helpdesk or live chat to contact us for any assistance later.
We accept


Credit Card Accepted
HOME | SUPER ALPHA | ALPHA | MASTER | RESELLER | WEB HOSTING
VPS SERVERS | ZAMFOO | WHMC BILLING SOFTWARE | TOS | AUP | CONTACT US